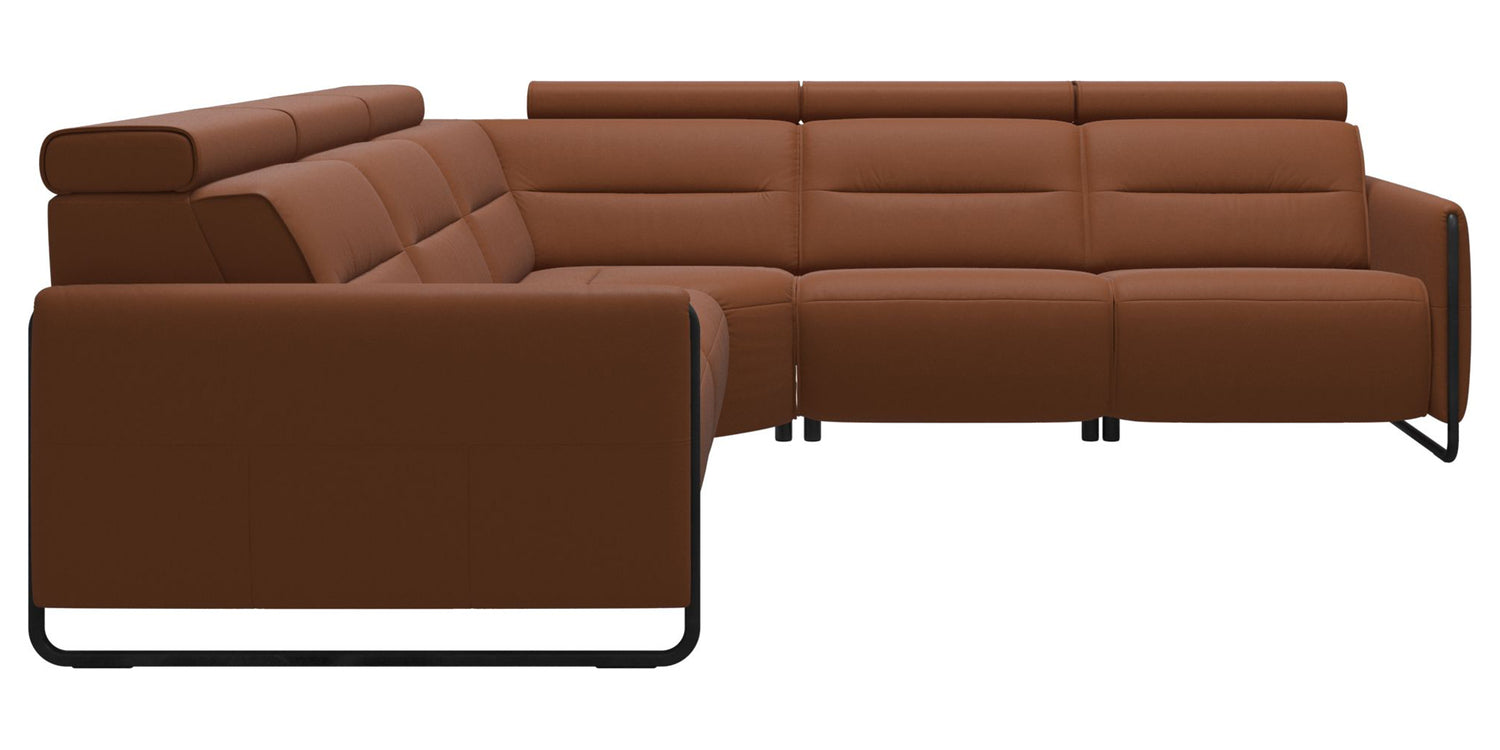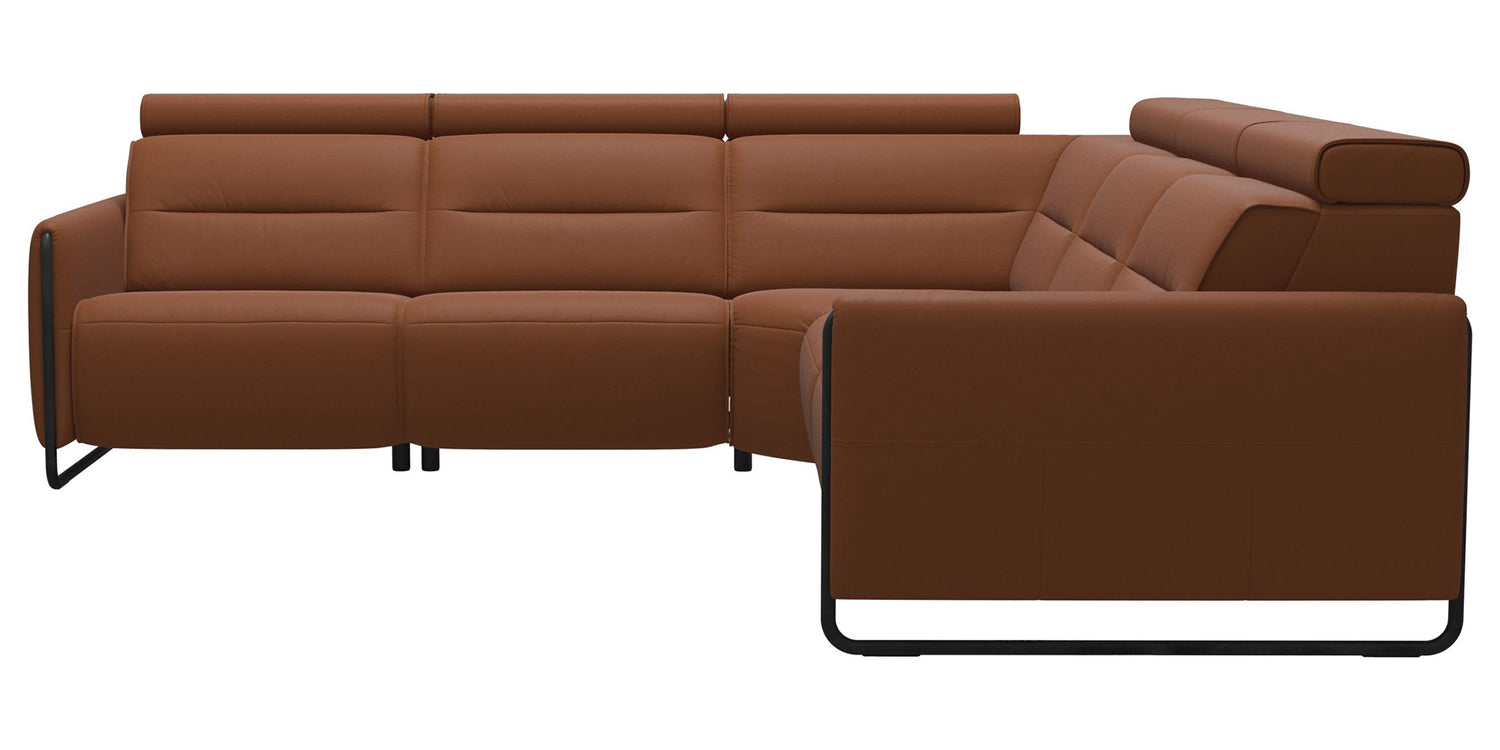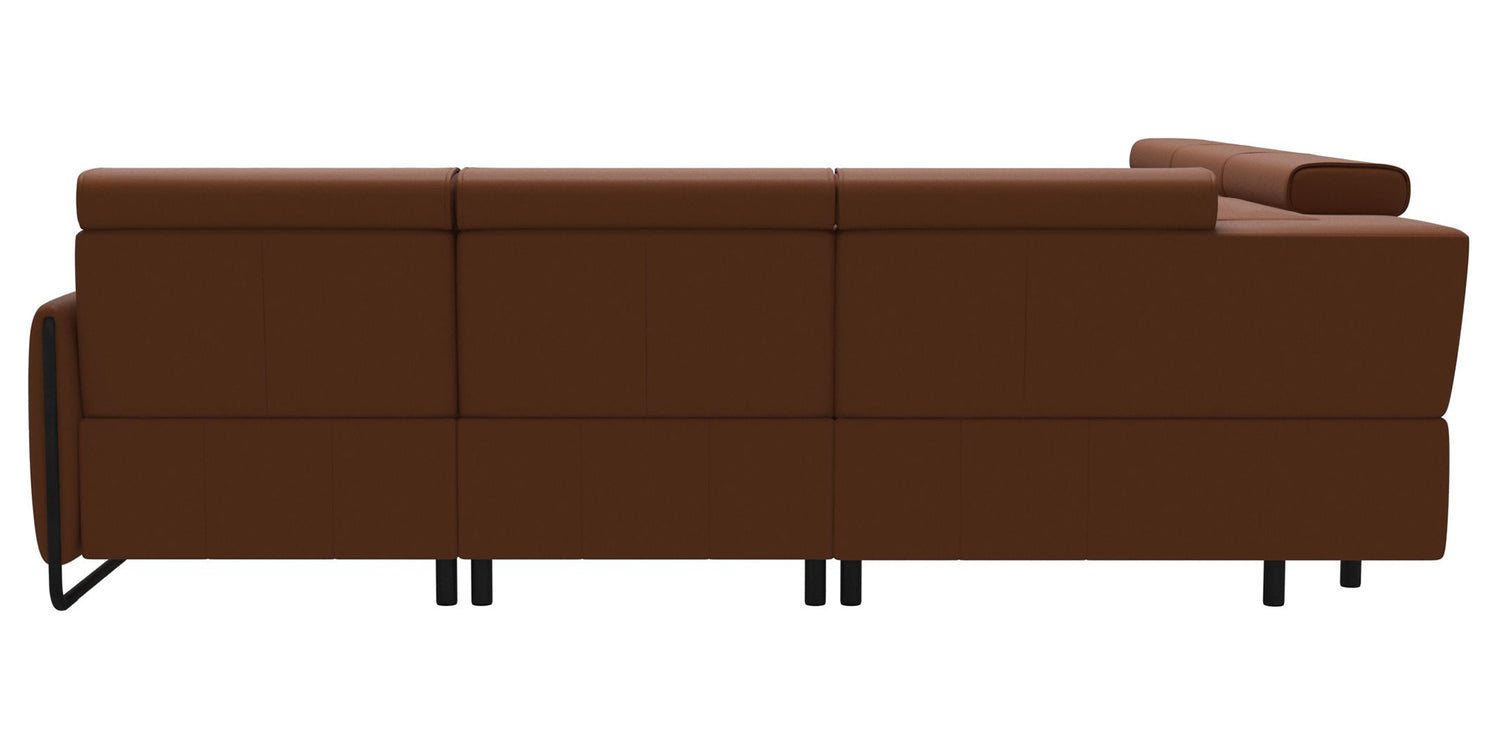 Stressless Emily C22 Corner Sofa
Starting from:On sale from:

$23,399.95 CAD
Contact Us
We are happy to assist you with any questions on this item.
Sleek lines with a modern look give the Stressless Emily C22 Corner Sofa an attractive appearance at home in any space. The contemporary design of the soft enveloping cushions invites you to sit down and relax. All seat modules come with an adjustable headrest. Choose between fixed seat backs or seats fitted with motors for individual adjustment of back and leg support. The Stressless Tokyo and Stressless View recliners both couple nicely with the Stressless Emily C22 Corner Sofa. Bring home comfort, style and extensive customizability with the Stressless Emily C22 Corner Sofa.
This sofa is available in your choice of a range of leather finishes to make it truly your own. Choose from wood or steel arm trim in a variety of attractive finishes.
Stressless furniture fits beautifully in every room and for every taste. Choose from classic Stressless recliner chairs, ottomans, loveseats and sofas, home office and dining chairs, fully customizable home theatre seating and coordinating accessories. For over 40 years, Stressless furniture has been recognized by stylish circles worldwide for form, function, beauty and comfort. All furniture is made by skilled craftsmen using only the highest quality woods, leathers, textiles, and finishes. A distinctive Norwegian brand, Stressless furniture is designed and produced where the Sykkylven fjord meets the Sunnmøre Alps of central Norway, guided by the philosophy that "when it comes to furniture, comfort matters most".
This sofa is part of the Stressless Emily collection, which includes matching 2-Seater Sofa, 2-Seater Sofa with Long Seat, 3-Seater Sofa, 3-Seater Sofa with Long Seat, 4-Seater Sofa, Chair, C12 Corner Sofa and C22 Corner Sofa with Long Seat.
Sale price applicable to models as shown. Product priced with power end seats, stationary centre seats and corner seat module. Our inventory changes daily and custom orders are available. Contact us to check inventory or place your order today.
Construction
| | |
| --- | --- |
| Style/Type | Modern sofa / Leather sofa |
| General Dimensions | 112.5"W x 43.25"D x 112.5"L x 33.75"H |
| Seat Height | 17.5" |
| Seat Depth | 22.75" |
| Materials | Multiple Leather colours available |
| Care | Wipe with a clean soft cloth and fluff cushions regularly to help maintain shape. Professional cleaning advised for heavy soiling. |
Features
Made in Norway
Available in 5 categories of leather
Arm trim available in 8 Stressless wood and 2 steel colours
Available with co-ordinated Stressless accessories
Available with motorized adjustable headrest, backrest and footrest
Measurements of individual products may vary by up to 3 cm due to the handmade nature of the product
Part of the Stressless Emily collection
Available Leather Colours
PalomaPaloma is a slightly corrected leather with a combination of dyes and pigments that smoothes down some of the structure (the grain pattern) of the leather. The grain structure in Paloma, may however, vary a little on some parts of the furniture, and minor colour nuances may also appear in the leather. A thin coat of lacquer gives Paloma some protection and simplifies cleaning, but Paloma does not have the same heavy-duty quality and protection as Batick and Cori. Due to its soft, natural and comfortable expression, Paloma is a very popular choice.
BatickBatick is a corrected, pigment-improved and grain-embossed upholstery leather, which has had most of its natural marks removed. Batick may have a two-tone colour effect to liven up the surface. Batick is resistant to fading, although changes in colour will occur over time due to use and exposure to light. A protective layer of lacquer simplifies cleaning. Simple cleaning, excellent durability and a reasonable price make Batick a good choice.
CoriCori is a corrected, pigment-improved and grain-embossed upholstery leather. Cori is somewhat thicker and has a larger pebbled grain than Batick. Most of its natural marks are removed. Also, some of the Cori colours have a two-tone colour effect to liven up the surface. A protective layer of lacquer simplifies cleaning. Coris is a wise choice if you want a leather with excellent durability.
NoblesseNoblesse is one of the most exclusive leathers in the Stressless collection. It is a full grain, semi-aniline leather which means that the leather is dyed using a light surface treatment. This provides a certain amount of protection, while maintaining the natural softness and glow that are characteristic of a first class upholstery leather. A natural material such as Noblesse retains its original grain and structure, and various grain patterns may be visible on different areas of the furniture. Due to the light surface treatment, Noblesse is quite delicate, but also among the softest and most luxurious of Stressless leathers. It easily absorbs moisture and is extra sensitive to wear, heat, exposure to sunlight, stains and sweat. Regular maintenance is important in order to maintain the leather's exceptional appearance.
Why Buy from valley Ridge Furniture